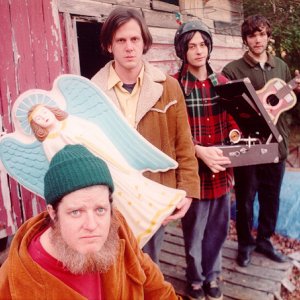 Hey-yo! Hold on to your flannels, everyone: After nearly 15 years essentially on hiatus (their last live performance was in 1999), Neutral Milk Hotel announced that they will be hitting the road for five dates in October, November and December, including a two-night performance at Athens, GA's 40 Watt Club.
News of the indie rock outfit's reunion tour is sure to be met with excitement, as the group continues to be one of indie's most revered acts. They will be touring with Elf Power, Half Japanese and Daniel Johnson on select dates.
According to the website, a portion of the concert proceeds and one dollar from every Neutral Milk Hotel box set purchased will be donated to the charity Children of the Blue Sky as well as others in need.
Merge Records confirmed that Jeff Mangum, Scott Spillane, Julian Koster and Jeremy Barnes, who made up the band around around In the Aeroplane Over the Sea will be the touring members of the band.
TOUR DATES:
10-22 Athens, GA – 40 Watt Club *

10-23 Athens, GA – 40 Watt Club #

10-25 Asheville, NC – Thomas Wolfe Auditorium #!

11-28 Taipei, Taiwan – Hostess Club Festival

12-01 Tokyo, Japan – Hostess Club Festival

* with Elf Power

# with Half Japanese

! with Daniel Johnston